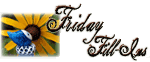 1.
Rennovating my new house
is so exciting!
2. Strawberry fields
puts the song "Strawberry Wine" by Deanna Carter in my head. (Thanks ... now it'll be stuck there all day!)
3.
An Ultimate Mudslide
sounds like it would taste delicious
right about now
!
4. Why does
sleeping in the middle of the day in the warm sunshine
make me feel so good?!
5.
Okinawa, Japan
is something I've always wanted to see
because I was born there but left when I was 3 months old.
6. It's sad when
a friend is going through something and there is no way to comfort them
.
7. And as for the weekend, tonight I'm looking forward to
Happy Hour(s)
, tomorrow my plans include
working on my new house
and Sunday, I want to
celebrate Easter with my family
!