It seems I neglected my blogging responsibilities once again! I didn't even do my Thursday Thirteen, even though I had one all picked out. I've been really busy at work the past two days. As bad as it sounds, I only do my blogging at work because I don't want to go sit at my computer at home after spending 8 hours working on one. I'll catch up on everyone's posts. Here's my Friday Fill-Ins: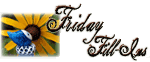 1. Some relationships are meant to
fizzle
.
2.
American Idol Tour 2007
is the last concert I saw; it was
okay, I only went because I love Blake Lewis
.
3. Spring should be
fertile
.
4. Oh no! I forgot
the bread in the oven
!
5. I've recently started
Trim Up Tuesday
.
6.
Looking at baby pictures
never fails to make me smile.
7. And as for the weekend, tonight I'm looking forward to
catching up on episodes of Lost
, tomorrow my plans include
planting flowers at my new house
and Sunday, I want to
work on the inside of my new house
!